Lead acquisitions play a crucial role in the sales funnel for any business. So, what is the lead acquisition process? It is the process of identifying and gathering information about potential customers who are interested in your product or service. This process typically occurs within the middle of the sales funnel.
Lead acquisitions truly serve as the foundation of the sales funnel, and without them, a business would struggle to find new customers and generate revenue. In fact, a study by HubSpot reported companies that prioritize lead generation and management have a 9.3% higher sales quota achievement rate compared to those that don't.
To build a productive, efficient sales funnel, it is imperative to understand the difference in lead generation and lead acquisition and how these processes fit within the funnel. Let's break it down.
LEAD GENERATION
Anything your company does to generate traffic online, including Google ads, targeted display ads, lead forms or media buys, is part of lead generation. A great example of this in practice would be search traffic on Google, bought for by a company, with the intention of directing a customer to complete a form. The process to obtain the completed form and how the form is pushed through different channels are components of lead generation.
LEAD ACQUISITION
Once a lead is generated on a form, the next step is to capture, filter, enhance, and deliver it to your various systems. This process could include purchasing leads from third-party lead vendors, like LendingTree for mortgage leads. The goal is to ensure that only the highest quality leads make it into the appropriate conversion process, while blocking those that don't meet your criteria. At its core, lead acquisition is all about optimizing your lead generation efforts to attract the right customers and drive revenue.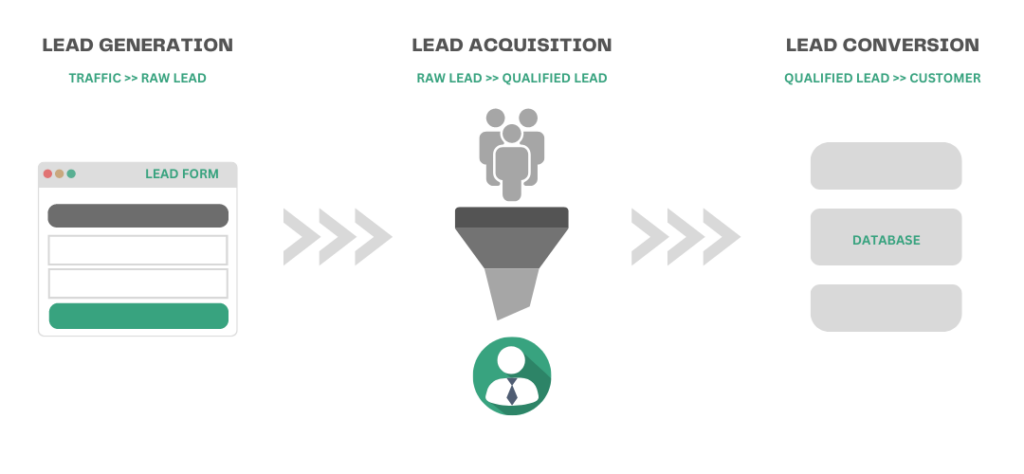 Without lead acquisitions, a business may struggle to attract and convert new customers, resulting in limited growth and revenue. A report by Marketo indicates that companies with strong lead generation and management processes have a 50% higher conversion rate at a lower cost per lead, reaffirming the simple fact that it is crucial to prioritize lead acquisition strategies.
At Sway Communications, we specialize in helping businesses generate and manage leads effectively. We offer a range of services, including lead generation and lead acquisition campaigns, to help businesses optimize their sales funnel and maximize revenue.
Interested in how we can help your business perfect the lead process?